Posts for: April, 2019
By Romeo Family Dentistry, PC
April 18, 2019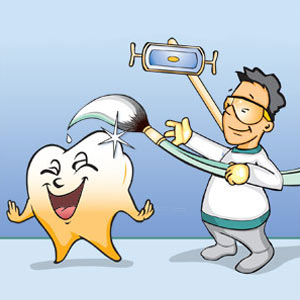 Home whitening kits are a popular way to turn a dull smile into a dazzling one. But these self-applied products only work for teeth with outer enamel stains — if the discoloration originates inside a tooth, you'll need professional treatment.
Known as "intrinsic staining," this type of discoloration most often occurs within a tooth's pulp or dentin layers. There are a number of causes like tooth trauma or tetracycline use at an early age. A root canal treatment used to remove infection from deep within a tooth can also cause discoloration: sometimes blood pigments left after tissue removal or the filling materials themselves can stain a tooth's interior.
Intrinsic staining can often be treated by placing a bleaching agent, usually sodium perborate, into the tooth's pulp chamber. But before undertaking this procedure on a tooth that's undergone a root canal treatment, we want to first ensure the filling is intact and still adequately sealing the tooth from infection. We also want to make sure the supporting bone is also healthy.
If all's well, we access the pulp in the same way as the root canal treatment, and preferably through the same access hole. We then clean out the pulp chamber of any stained matter and then ensure the root canals remain filled and sealed off from the pulp chamber.
We can then place the bleaching agent into the pulp, a process that will need to be repeated every three or four days to achieve the desired level of brightness. After each session we place a cotton pellet over the opening and held in place with a temporary adhesive; we can easily remove and re-apply this covering during subsequent sessions. Once we've achieved the desired color change, we seal the tooth with a permanent filling and restore the access cavity with a tooth-colored composite resin material bonded to the enamel and dentin.
There are other options for an intrinsically stained tooth like veneers or crowns that outwardly cover the discoloration. Internal bleaching, however, is a more conservative approach that causes less alteration of the tooth. If successful, it can restore a stained tooth to a brighter, more attractive shade.
If you would like more information on internal bleaching, please contact us or schedule an appointment for a consultation. You can also learn more about this topic by reading the Dear Doctor magazine article "Whitening Traumatized Teeth."
By Romeo Family Dentistry, PC
April 08, 2019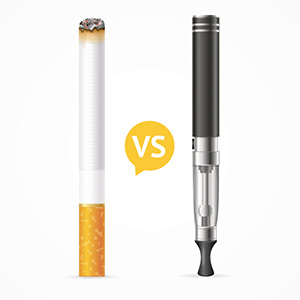 More than 20 million people in the United States use electronic cigarettes or e-cigs as an alternative to tobacco smoking. While many users believe "vaping" is a healthier alternative to regular cigarettes, recent research into the health effects of e-cigs could put a damper on that belief. There's particular concern among dentists that this popular habit could harm users' dental health.
E-cigs are made with a chamber that holds the liquid vaping solution and a heating mechanism to heat the liquid and vaporize it. Users inhale the vapor, which contains nicotine and flavorings, as they would a traditional cigarette.
The nicotine alone can be problematic for dental health as we'll see in a moment. But the vapor also contains aerosols that some research indicates could damage the inner skin linings of the mouth in a similar fashion to the smoke of traditional cigarettes. One study by researchers with the Université Laval in Quebec, Canada found evidence that e-cig vapor increased the death rate of mouth cells, and led to greater cell irregularities over time.
According to other studies, there's evidence that e-cig vapor may disrupt the balance of the oral microbiome, the communities of both beneficial and harmful bacteria that normally live in the mouth. The imbalance in favor of more harmful bacteria could increase the risk for dental disease, particularly periodontal (gum) disease.
Finally, nicotine from e-cigs seemed to create similar conditions in the mouth as it does with tobacco. Nicotine in any form can constrict blood vessels and reduce the body's ability to fight infection and to heal. Research indicates both forms of nicotine increase the risk for dental disease and make treatment more difficult.
These findings only identify conditions created by e-cigs that could be problematic for future dental health. Although we don't fully understand the long-term health effects of this new habit, based on the evidence so far the mouth may not fare so well. It's looking like e-cigs may be no safer for your teeth and gums than the cigarettes they replace.
If you would like more information on the health risks of electronic cigarettes, please contact us or schedule an appointment for a consultation.